I am glad to inform you that the new Mother of Twins calendar is available again.
This calenadr is the first twin pregnancy calendar designed with you in mind to keep track of your pregnancy and your babies' developments.  Use the calendar to record your doctor and ultrasound appointments.  Each baby has been given his or her own box for recording their unique information such as babies' heart rates, kicks and more. The journal is 11″ x 11″ and each page consists of 2 weeks of your twin pregnancy.
To check a higher quality image of the cover click here.
---
Price: 19.00 USD

Shipping and Handling: 7.00 *

* For US and Canadian Destinations using US or Canada standard Air post.

For International destinations please email us with you address and we will get back to you with the shipping rate.

At this time we accept payments via Paypal. It is fast, easy and secure.
——————————————————————————————————————————–
Alternatively a similar twins calendar is  available at Zazzle. But I prefer the quality of the one I sell through this site. However at zazzle you can change the background designs and add your name to the cover if you wish.
The current size of this calendar is 14.5 x 22 opened. Under the calendar options tab you can choose a smaller size 11 x 17 which will cost you less as well.
You can view more images of this calendar by clicking on You can order another type of twin pregnancy calendar by following the link below: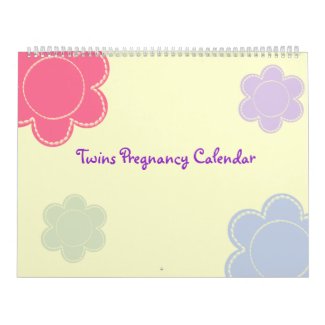 Twins Pregnancy Calendar by graphicdesignlady
Make your own photo calendar at zazzle
See more People Health Cultures Calendars